Power BI vs Tableau – Which One Should You Choose?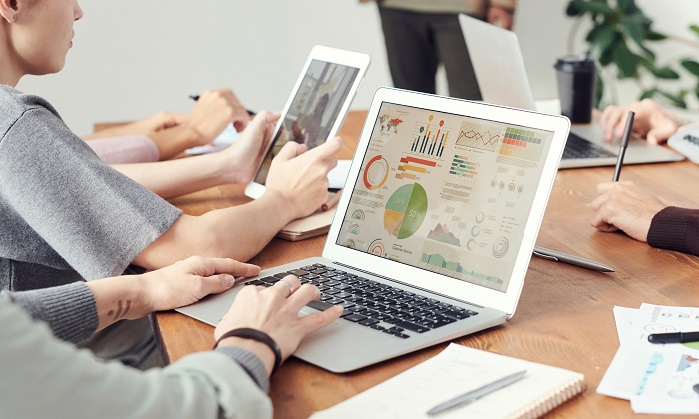 Business intelligence (BI) is critical in today's business environment. You are probably leaving lots of money off the table if your business does not use data to increase efficiency while reducing costs. Power BI and Tableau are two powerful data visualization tools that your business can rely on to make intelligent data-led decisions. So, which is better in the Power BI vs Tableau duel?


A quick glance at Power BI and Tableau
Power BI
Power BI is Microsoft's business intelligence tool that hosts a series of cloud-based tools for data visualization. Initially, Power BI was an Excel add-on that sought to boost the use of business intelligence among companies. This tool uses and integrates perfectly with other platforms in the Microsoft ecosystem such as Azure, Excel and even SQL. Many organizations love Power BI because of its ability to analyze, visualize, and extract crucial data that is sent to all departments within the company.
Tableau
Tableau by Salesforce, on the other hand, considers itself to be one of the most contemporary data analytics platforms. Perhaps, thanks to its good-looking and cool user interface. It can also handle large amounts of data without compromising performance. Your business can easily manage data flow and convert any information to actionable insights with this business intelligence tool. Businesses that desire a user-friendly interface and tailored visualizations of their data enjoy using Tableau.


Similarities and differences between Power BI and Tableau
Power BI and Tableau may look the same at first sight, but there is a difference between Tableau and Power BI. Here are some of the similarities and differences between these two platforms.
| | | |
| --- | --- | --- |
| | Power BI | Tableau |
| Cost of Power BI vs Tableau | Power BI is relatively cheaper than Tableau. It comes with a free option, $10 monthly subscription, and a customisable premium Power BI pack at about $4,995. Companies that are already in the Microsoft ecosystem will find it cheaper as you won't have to pay for Office365 to access its interface. | Tableau has a much complex pricing system that distinguishes the different types of users on the platform. A monthly subscription of Tableau Pro will cost you $35, Tableau Creator costs $70 a month while a viewer account is worth $12. |
| Productivity features of Power BI and Tableau | Power BI comes with native apps that give you access to data anywhere in the world. It also has a publish-to-web function that allows you to post data visualization to your website directly.You will also enjoy the natural language query tool, which is like Siri for your data. You can use the tool to ask questions such as 'Where do our customers reside' and get instant answers. | Tableau has a number of features that you can explore through its support tools. Users can access and edit data with its mobile app while teams can collaborate perfectly with shared dashboards. You won't get the natural language query tool but it comes with its Einstein AI to help with data discovery. |
| UI and UX | Power BI has an intuitive user interface that works best when you integrate it with other products. It offers you three view options: the report view, the model view, and the data view.You can easily operate Power BI thanks to its friendly user interface. | This data visualization tool has one of the best user interfaces on the market. Its intelligent interface allows you to tailor your dashboard depending on your needs.You will also love the workspace area where you can experiment with different data sets. This workspace area comes with several cards, a status bar, data source tabs, a sidebar, and sheet tabs among others. |
| Customer support | You get limited customer support when you have a free Power BI account. This is different if you have a paid Power BI version, which has much faster and responsive customer support. | Tableau has excellent customer support that will help you address any issue you have. You also get access to more than 160,000 users and 500+ groups in the Tableau online community. |
| Data visualization in Power BI and Tableau | Data is presented well on Power BI. The tool comes with a drag and drop feature that lets you determine your dashboard. You get a number of visualization options that come in handy when creating reports. | You can tailor your dashboard on Tableau with ease. The good thing is that you do not need any prior experience with the platform to navigate your way around it. You can also ask queries that will be translated to interactive visualizations. |
| Machine Learning | Power BI works great if you need to integrate it with machine learning applications. Using Power BI will allow you to enjoy the benefits of Microsoft business analytics.You can integrate it with Azure machine learning, SQL Server-based Analysis Services, and other Azure offers. With machine learning, you can compile data or check for trends and patterns too. | Tableau may not be as impressive as Power BI when it comes to your machine learning options. That said, you can perform machine learning operations with Python machine learning. |

FAQs on Power BI and Tableau

Is Tableau easier to use than Power BI?
Yes, Tableau is relatively easy to use when compared to Power BI. Most users love the drag-and-drop feature that assists Tableau users. It is easy to create visualizations in Tableau while Power BI makes it simple to create reports. Easy integration with other apps also makes the tools easy to use even for the novice users.
Does Tableau and Power BI require coding?
No, you will not need any coding skills to use both Tableau and Power BI. These data visualization tools are simple tools that even the average employee can use and understand. However, you may need to code when you want to use Python or R to create visualizations.
Are Power BI and Tableau good for data analytics?
Tableau is especially great when it comes to data analytics. You can compile and analyze data quite fast, which you can change to visualizations. Data analytics will be showcased on your dashboard and you can also create worksheets out of the data you analyze.
What are the disadvantages of using Tableau or Power BI?
There are a number of disadvantages when it comes to using both Tableau and Power BI. One disadvantage of Power BI would be the report can only be shared with people from your company domain. Tableau has some significant advantages, but it also comes with some disadvantages too. These include its relatively high cost, inability to import custom visualization, no machine learning options, and inability to embed reports to other apps.
Is it better to get Tableau or Power BI?
The data visualization tool you choose will depend on the needs and preferences of your organization. Tableau is great in many ways, especially when looking to create interactive data visualizations. On the other hand, Power BI is much cheaper than Tableau, comes with machine learning tools, and can create dashing reports. The choice will ultimately depend on what you need as an organization.


Power BI vs Tableau: Find the best data visualization tool
Data means more for organizations looking to maintain a competitive edge in this business world. Any organization that is not exploiting the benefits of data visualization faces the threat of running out of business. But what is the best tool for your company between Power BI and Tableau? The comparison between Tableau and Power BI will inform you of what you need to take your business to the next level.
Read our blog to learn more about BI tools that could fit your business needs.
And if you want help to get your business started with data visualization, post your project on Pangaea X – our freelance data analysts will be able to help.

Sign up for news and insights from Pangaea X
It's free and easy to post your project
Get your data results fast and accelerate your business performance with the insights you need today.