Top 10 Business Intelligence Platforms for 2023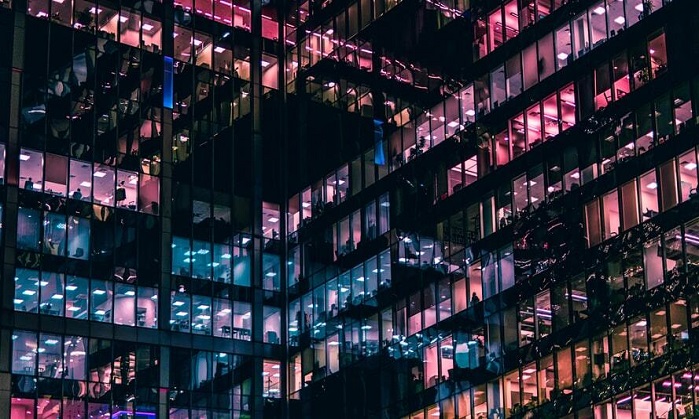 The exponential growth of data is both one of the main challenges and opportunities facing businesses today. It is a challenge because businesses must find the most efficient ways and means to capture, manage and analyse the data. It is an opportunity because of the potential it creates for more objective decision making and deeper market understanding. Data-driven business decisions can improve business performance. For instance, 78% of tech professionals think that faster data analytics increase revenues and deliver a better bottom line.
Business intelligence (BI) refers to all the processes, systems and technologies that transform raw data into understandable blocks identifying patterns, trends and relationships. BI can deliver insights to help drive business decisions. There is a clear line between the implementation of BI tools and an organisation's agility, and ability to achieve its objectives. BI tools provide data analysis, converting large volumes of information into comprehensible blocks, such as reports, dashboards, maps, graphs, charts and so on.
There are many excellent BI products available to meet the need for fast, accurate data analysis. There are few issues to keep in mind when choosing among the available products:
Understanding and articulating your data objectives:

What do you need the BI tool to deliver? This covers the level of analysis, visualisation, and customisation features.
Who will be using the BI tool and why? A small-medium sized company has different needs and resources from that of a large enterprise.
On premises or cloud implementation
Security and customisation

Assessing implementation and maintenance requirements

What are the costs and time required to accomplish installation, system integration, employee training and upskilling?
Hardware or software costs including servers, cloud storage
Upgrades
After sales and customer support


Best analytics and business intelligence (BI) platforms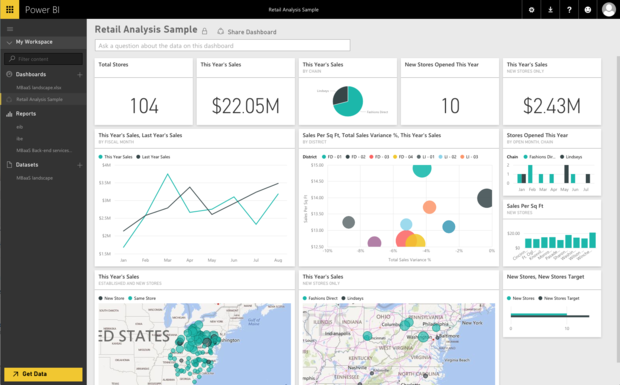 Power BI is many people's top choice of platform for good reason. In 2016, Microsoft announced more than 5 million subscribers using the platform. Microsoft Power BI is an analytical service that provides interactive data visualisation and business intelligence capabilities, with an interface which is simple enough for an end user to create their own reports and dashboards.
Pros
Different products with varying price points, but overall, more affordable than alternatives

Users can purchase Power BI Pro for $9.99/user per month; Power BI Premium costs $20/user per month.
Free download and trial

Easier to use compared with other tools – based on more advanced rendering Excel pivot tables and data visualisation tools
Ability to integrate with the current applications in your existing business environment, allowing you to analyse and create rich personalised dashboards.
Connects to hundreds of data sources
Supports collaboration between disciplines wherein different users can work together to create visualisations within the app, then publish them for viewing by their audiences.
Low IT support required
No need for coding knowledge
Frequent updates
Usable on multiple devices
Responsive customer service
Cons
Awkward user interface
Difficult to navigate when moving beyond simple visualisations
Inability to automate repetitive tasks, which necessitates a lot of manual effort – pointing and clicking to edit visualisations
Free version has limit on amount of data that can be processed around 2GB
Limited visual configuration compared to other tools


2. Tableau: Prep, Desktop, Server & Online, Mobile
Tableau is considered the leading visual analytics platform. Tableau is suitable for business and academic use, and is an evolving platform with continuous upgrades. It is hard to estimate the number of active users, but the online "Tableau community" has more than 1 million members and 500 user groups.
Pros
Different subscription options
Drag and drop functionalities enable creation of impressive visualisations
Can be used without coding background
Able to handle large volumes of data – millions of rows
Ability to connect to multiple data sources
Users can include Python or R scripts
Mobile device support
Free version for individual use
Cons
Expensive and different pricing or subscription options.

Personal use is priced at USD 70 per month billed annually. If there are multiple users, costs can rise dramatically.

Pricing for organisations can vary widely depending on number of users, cloud server or on-premises implementation. For example, a Tableau server with minimum deployment can cost USD 1,445 per month, billed annually. Takes time to learn and can be difficult to pick up for newbies
No scheduling option – Reports must be manually refreshed.
No custom visual imports unlike other platforms like Microsoft Power BI.
Custom formatting for multiple fields must be done manually.
Static parameters – When data values change, parameters must be updated manually.
Dashboard layouts change if dashboard creators and end users screen resolution is different which means separate dashboards have to be created for mobile and desktop.
Limited data processing ability – Data has to be prepped and cleaned in a separate tool, like Power BI, Excel and Alteryx before loading.
Coding know-how is needed to get the best out of the platform.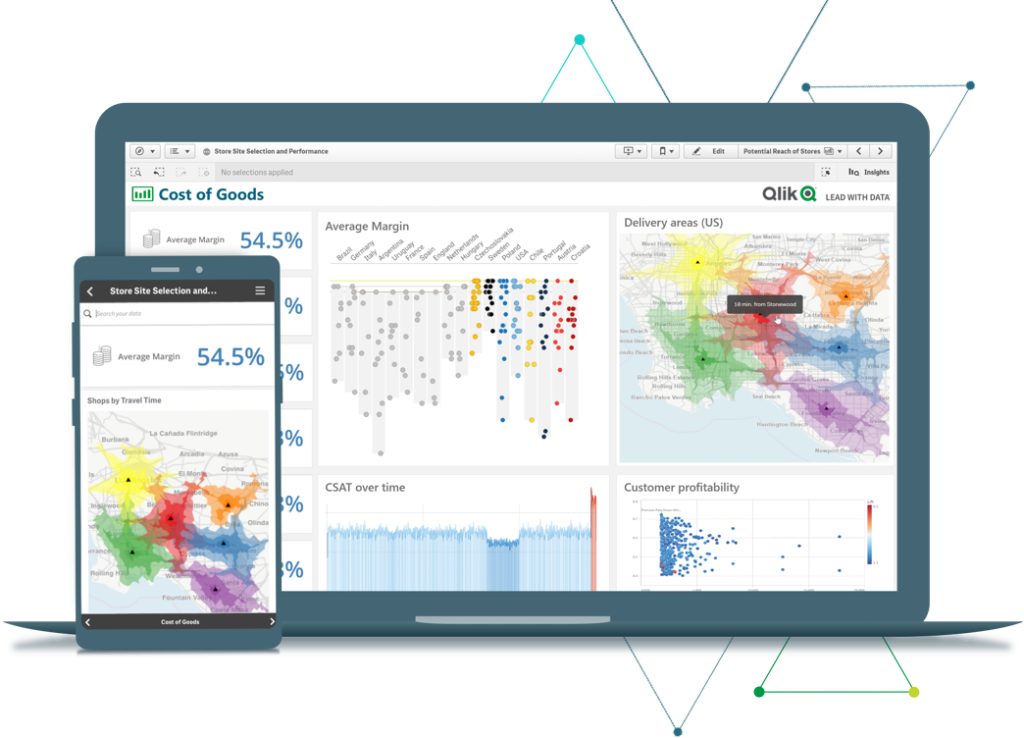 Qlik describes itself as a unique analytics engine, enabling users to generate insights missed by other BI query-based tools. It is a Windows application allowing users to create visualisations, charts, interactive dashboards, and analytics apps for local and offline usage. The company declares it has more than 38 thousand customers worldwide.
Pros
Many attractive and colourful data visualisation options
Enables complex data analysis, interpretation
Data sharing for different teams and departments
Self-service – No need for IT support
Low maintenance software
Strict data security
Fast analysis
Data compression capabilities
Direct and indirect data searches
Cons
Poor real-time data analytics
Needs larger RAM space
Difficult end-user application development – needs SQL expertise
Extra purchases needed to fully exploit the platform
The business cloud solution costs USD 30 per month. Pricing for the Qlik sense Enterprise SaaS solution is not transparent.
Not easy to embed or integrate with other applications
Poor online and customer support
No drag and drop functionality
Old-fashioned interface


4. SAP BusinessObjects BI Suite
On-premises BI layer for SAP's Business Technology Platform providing centralised capabilities for data reporting, visualisation and sharing. It is the preferred choice for nearly three thousand large companies, mostly based in the US. This is a large enterprise level tool that is not favourable for smaller organisations especially in terms of pricing.
Pros
Ability to create stunning visualisations
Drag and drop interface
API integration features
Relatively easy to use web-based interface
Ability to upload the data into Excel for sharing conventional way
Scalable
Versatile integration – can be connected to different data sources like OLAP and XML, and other integration points such as SharePoint, Java, Microsoft Office and .NET.
Cons
Expensive licensing and overall pricing
Platform heterogeneity – SAP has acquired many companies over the years meaning product integration sometimes bumpy
Issues with reporting performance and quality
Server can be shut down due to heavy loads
Software upgrades challenging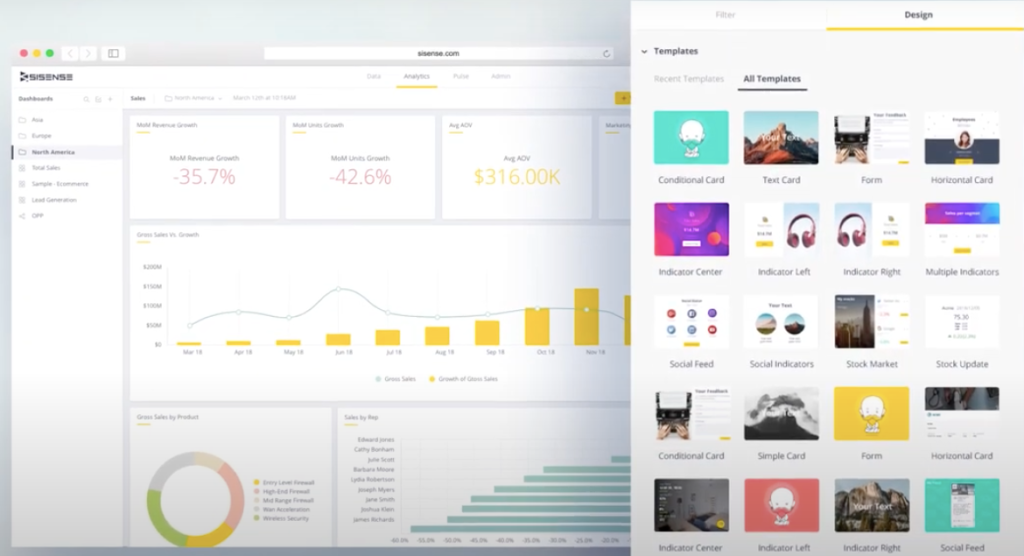 Sisense is marketed as a user-friendly BI tool to manage large and complex datasets and is recognised as a leading cloud analytics platform by Gartner. It boasts 2,000+ customers from among leading international companies
Pros
Fast implementation
Big number of drag-and-drop tools
Interactive dashboards for ease of collaboration
Supports data export to PDF, Excel and CSV
Ability to work with huge data sets (terabyte-scale)
On premises & cloud-based options
Dashboard published in web environment allowing multiple device access
Custom in-chip technology optimising computation to use CPU caching rather than RAM – leading to 10-100x faster computing power
Elasticube, Sisense's high-performance analytics database allows users to take data "snapshots"
Ability to integrate data from diverse sources such as Adwords, Google Analytics and Salesforce
Cons
Although Elasticube gives access to huge datasets, it is not user-friendly, needing substantial technical expertise (SQL)
Heavy application – requires server space and resources, and time to set up, and configure
Dashboards are only interactive on the web
No ability to schedule reports for sharing via email
Pricing is not transparent


6. SQL Server Reporting Services (SSRS)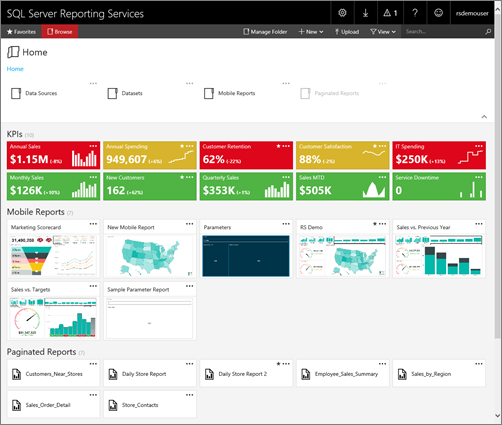 SSRS is a server-based report generating software system. It is part of Microsoft's SQL Server services, such as SSAS and SSIS. SSRS has a web interface used for generating and delivering reports. The SSRS service has an interface with Microsoft Visual Studio, allowing developers and SQL administrators to connect to SQL databases. Users have access to a variety of tools to produce formatted reports, including tables, charts and graphs.
Pros
Free if you have Microsoft SQL Server Web-interface
Can generate and deliver collection of both interactive and printed reports
Ability to connect to multiple data sources such as Microsoft SQL, Oracle, and Excel, and more
Server based – users can build, share and view reports on the web
Caters to developers – works with other developer programs like Visual Studio
Ability to schedule reports with automated delivery
Excellent customer support
Cons
Not user-friendly – designed for use by developers and requires SQL knowledge
Takes up a lot of space
Only runs on Windows
Extra work to generate reports for access on mobile devices
Old-fashioned interface
Software upgrades can be complicated
Enterprise edition is very expensive
Complex licensing . Every device running SSRS has to be licensed as if it was running a SQL server. SQL licences are based on 3 models: per processor, or server licence + charge per every device, or server licence + charge per user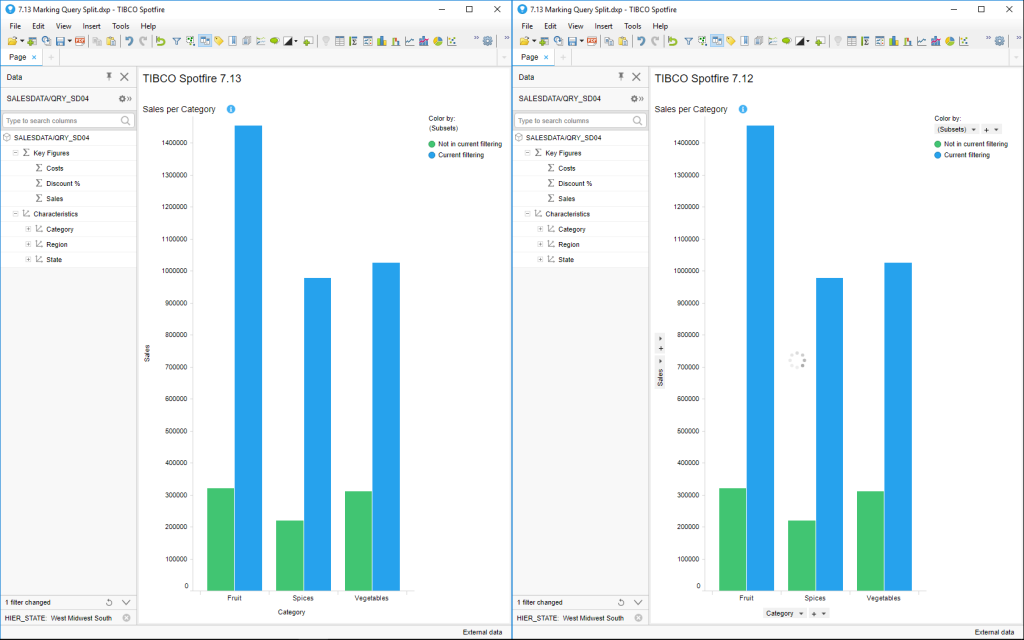 The Spotfire platform was developed in the 90's and was acquired by TIBCO in 2007. This analytics platform is widely used for self-service data analysis. It is regarded as reliable, flexible, and scalable. One of its key features is the ability to integrate incompatible systems, connecting with over 25 possible data sources. It was recognised as one of the most loved software products by TrustRadius.
Pros
Designed for use by enterprises, it can significantly reduce cost of ownership because it allows the management of thousands of users over the web using a single database.
Cross analysis functions
Rich visualisation capabilities including dynamic dashboards and interactive visualisations
API features facilitate system set-up. The platform can connect to third-party tools, databases, and applications, enabling more complex data analysis
Multi-device access
Cons
Complicated UX
Difficult to learn
Lack of support documentation
BI and production reporting have to be developed
No templates – reports have to be created
Suitable for larger enterprises
Problems with screen resolution – reports generated on a device with a certain screen size or resolution can be distorted when viewed on other devices with different screen configurations.


Microstrategy is popular for larger size businesses. With an integrated platform supporting web-based and mobile access, it boasts more than 4000 customers.
Pros
Ability to customise applications through large collection of APIs
Provides advanced analytics, dashboarding and data visualisation
Connects to variety of data sources e.g., cloud databases, data warehouses, physical access systems, information repositories, and web-based applications
Provides advanced predictive analytics powered by machine learning
Ability to schedule and automate reports for specific users based on preferences and security levels
Built-in data processing capabilities
Digital security credentials
Cons
Users take time to learn functionalities
Difficult to generate and schedule customised reports
Formatting options are limited
Challenge dealing with larger data sets
Time-out errors when exporting to Excel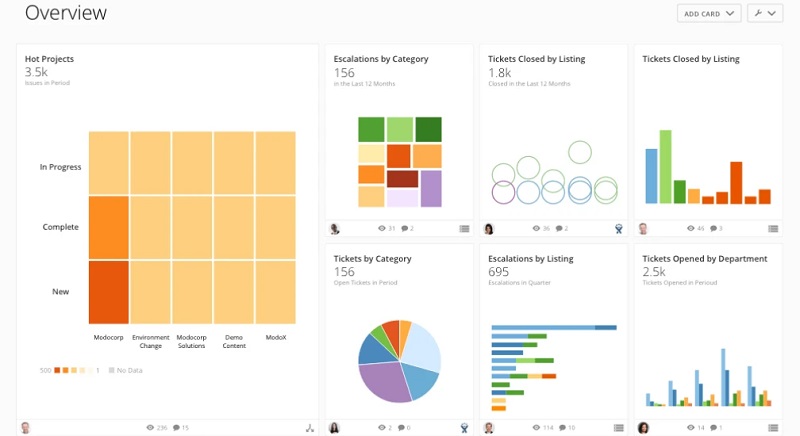 This BI platform is provided as SaaS with mobile, cloud-based, social, and community-based features. Domo provides a single, self-service solution controlling the access to an organisation's data for all business roles.
Pros
Attractive real-time visualisations
Ability to integrate data from multiple sources
Supports collaboration
Drag-&-drop features
Interactive dashboards, and data exploration tools to help in developing dashboards
Up to 5 users can access demo tool for free
Business cloud operations are supported – connection to all business data and applications
Social media communication and messaging features
Good after-sales service and customer support
Cons
Difficult learning process
User interface not easy to pick up
Missing machine learning (ML) and natural language elements which are present in many other BI platforms
Not right choice for enterprises with on-premises data preference
Too expensive for small-medium enterprises
Difficult to export charts to PowerPoint
Need to use screenshots to share data outside of Domo


10. SAS Visual Analytics (SAS Viya)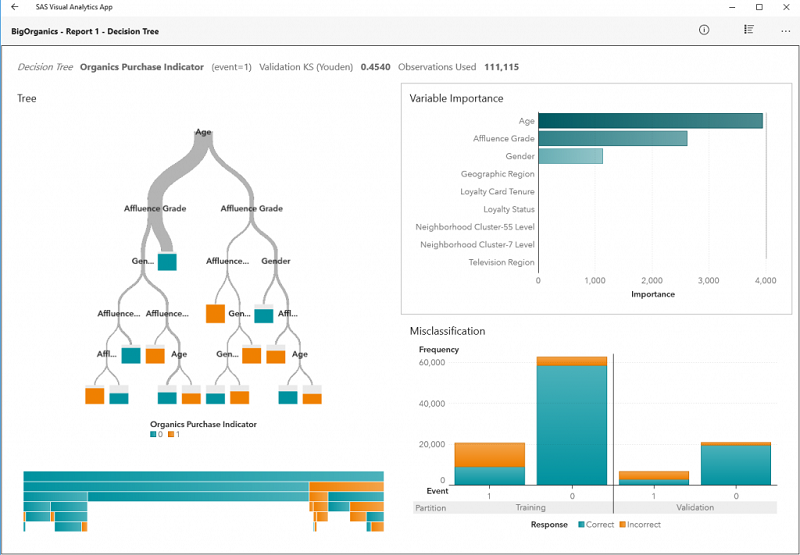 SAS Viya is one of the tools in the SAS Enterprise Solutions suite. It is described as a complete platform for analytics visualisation facilitating data exploration, analytics and reporting. SAS Viya is a more complex tool than PowerBI or Tableau. It requires users who are comfortable in a coding environment. While less user-friendly, SAS VIYA provides more extensive data preparation and modelling capabilities than many other BI tools, with the capacity to manage huge volumes of data.
Pros
Machine learning and natural language
Interactive reports and dashboards
Predictive analytics features
Self-service data preparation facility so that users can prepare own data creatively
Cons
Not easy to install or implement
Not the most efficient tool for data preparation and data management
Forecasting requires manual work
Difficult learning curve
User interface is not intuitive
Limited graphing customisation
High cost


To conclude, there are indeed a wide range of business intelligence tools out there, and all have their loyal users and a proven track record of providing solutions for data analysis. But once you have established what your goals are for your data journey, it will be easier to narrow down which business intelligence platform will be the best for your organisation. What needs to be kept front of mind is that employees will be using the platform. Their skills and knowledge are the starting point for extracting the maximum value out of your investment in any BI tool.
Data analytics goes beyond the ability to use tools, to code and to generate reports. It is based on the ability to "analyse" – to read and interpret the data. This data awareness needs to be instilled at all levels of the organisation, especially among decision makers. Generating dashboards, charts and reports is fine, but meaningless unless BI outputs are examined, challenged and interpreted.
Want to see how BI and data analytics can lift your business performance to another level? There is nothing more valuable than the insights that skilled data analysts can provide. At Pangaea X, we have a roster of the most highly qualified data experts in the world, experienced in getting the best out of the most commonly used BI tools. Browse through our data analyst freelancer platform and select the talents that can accelerate your data journey.
Sign up for news and insights from Pangaea X
It's free and easy to post your project
Get your data results fast and accelerate your business performance with the insights you need today.